150,000 Volunteers Expected at Annual Greater Philadelphia MLK Day of Service
By National Urban League Published 02 PM EST, Mon Jan 27, 2020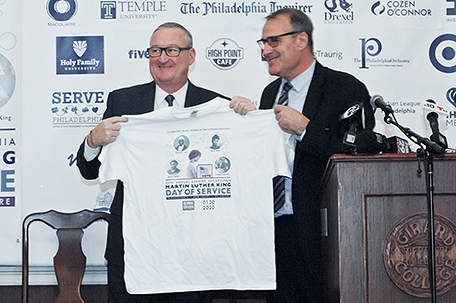 Organizers, sponsors, and community partners joined together in a ceremony at Girard College on January 8 to announce plans for the upcoming 25th annual Greater Philadelphia Martin Luther King Day of Service. Girard College will serve as the region's signature project site for the eleventh successive year. 
Founder and director Todd Bernstein, who is also president of Global Citizen, announced that a national record of more than 150,000 volunteers are expected to participate in more than 1,800 community service projects throughout the region on Monday, January 20, the King federal holiday. 
The Greater Philadelphia King Day of Service includes Pennsylvania, New Jersey, and Delaware.  Participants will include students of all ages from public, private, and parochial schools, colleges, senior citizens, community, religious, civic and non-profit organizations, businesses, military veterans, AmeriCorps members, elected officials and families. 
The 25th annual Greater Philadelphia King Day of Service will focus on "Voting Rights Then & Now — the 100th Anniversary of the 19th Amendment, the Role of Black Women in the Suffrage Movement & the importance of being counted in the 2020 U.S. Census."
The signature project is sponsored by Global Citizen, Wells Fargo, United Way of Greater Philadelphia and Southern New Jersey, Urban League of Philadelphia (Philadelphia, PA) and others.
To read the full article, click here.