Since our founding, the Urban League affiliate movement has grown from a single chapter in New York to a network serving two million people in 90 cities across the country. Project Empower University gives them the skills to continue serving their communities and expand the movement's reach.
Our Approach
Project Empower University is designed to be a sequential and systematic approach to moving Urban League affiliates along the pathway to greater capacity and higher performance. The ultimate outcome is improving financial stability and economic empowerment for the participants they serve.
We have worked to increase the effectiveness of our national affiliate network's economic services by helping it to implement workforce development best practices—such as employer engagement, career pathways, and effective data management—and to integrate services more broadly.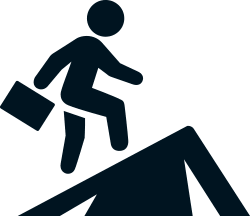 2025 Empowerment Goal:
Every American has access to jobs with a living wage and good benefits
Our Impact
Our work has helped increase the capacity of Urban League affiliate staff members as senior organizational leads redesign internal operations. Our affiliates are working to improve the economic outcomes for their clients, helping them to earn more and to keep more of what they earn to build assets and opportunities for the future. Early Project Empower University participating affiliates have increased retention rates by up to 30% and average participant wages by up to $3.00 per hour.
40%
of all Urban League affiliates are participating in this initiative
$3.00
an hour is the increase in wages already being realized by participants whom participating affiliates serve
30%
is the retention rate increase already being realized by Urban League affiliates
Definition of Value Proposition

Creation of Guiding Team

Refinement of Implementation Strategy

Definition of Smart Goals

Implementation and Measurement

Self-Analysis and Ongoing Refinement