Statement from the Baltimore Urban League on Recent Comments from the President
By National Urban League Published 01 PM EST, Wed Jan 29, 2020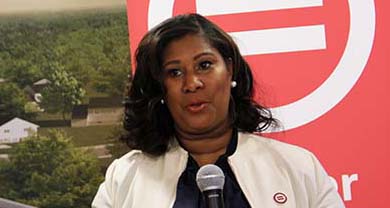 You are evidently Clueless about Baltimore! 
It is a miserable day in history when you can daily depend on the President to divide the States of America instead of Uniting the "State" of America. 
How can we articulate to our kids dream big when they wake up every morning to a nightmare produced by ego and political gamesmanship, one who cares more about Political points than Progress for the people? 
After returning from a most notable and successful National Urban League conference where the Greater Baltimore Urban League won numerous National awards, inclusive of New CEO of the Year, Honorable Recognition for our Raymond V. Haysbert Center for entrepreneurship's local impact and lastly 2019's Powerbroker Service Award! It's difficult to reconcile the good that we do in the community with the vial statements made by the President. Baltimore has been and will continue to be the home of some of this nation's greatest Americans: Thurgood Marshall, Reginald Lewis, Charles "Rock" Dutton, Todd Gurley, Kweisi Mfume, Speaker Nancy Pelosi, Jada Pinkett-Smith, Babe Ruth, and of course our Congressman, the Most Honorable Elijah Cummings to name a few. Our Honorable Congressman Cummings has paved the way and provided unwavering support to all communities in Baltimore (in which he resides) and throughout the world. Yet even with this short list of American heroes from Baltimore, this administration finds it more politically expedient to discard our great city and our great legacy of producing exceptional Americans. 
As a leader, I rise today to add my voice to those who are proud to live in and honor Baltimore, be from Baltimore and credit Baltimore for helping them to be who they are today. Mr. Trump, if you'd like to make a statement, let's talk about strengthening the middle-class in Baltimore, merely acknowledging the lower-class in Baltimore, let's talk about supporting those who work tirelessly on the frontlines to make our city great, let's talk about ways the federal government can better incentivize minority owned businesses and entrepreneurs to innovate and open businesses in Baltimore. If we are going to talk about Baltimore, let's do more than just TALK. Let's ensure that the children have increased opportunities, mere equity in opportunities to become productive citizens, as other Baltimoreans who have changed the globe utilizing what they have cultured in "Charm City", which has ultimately made America a better and more inclusive place. 
Make People the Point not Politics! 
Kindly, 
Tiffany Majors- President and Chief Executive Officer 
Greater Baltimore Urban League