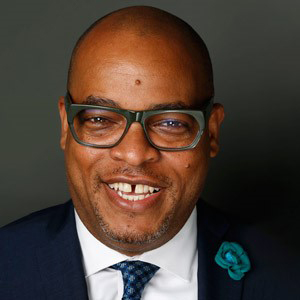 Vice President, External Relations & Special Projects, Jackie Robinson Foundation
Ivo Philbert is Vice President, External Relations & Special Projects for the Jackie Robinson Foundation, where he is responsible for creating strategic partnerships with community organizations, educational institutions and professional organizations across the country to further the mission of the Jackie Robinson Foundation and the Jackie Robinson Museum. He also oversees JRF's Rachel Robinson International Fellowship trip to Africa for freshmen scholars.
Before assuming that role in January 2018, he was Vice President & Chief Program Officer where he was responsible for the strategic and operational oversight of the Foundation's Mentoring & Leadership Development Program; including the scholarship selection process and scholarship grants made; monitoring and evaluating the program to ensure efficacy and standardization; supervising the JRF Program staff; and working closely with the President & CEO to develop the ongoing programmatic vision and strategic planning.
Previously, Mr. Philbert was Vice President of Strategic Account Management & Business Development for the international non-profit organization, INROADS, where he spent over 20 years in a variety of other leadership roles.
An active mentor to many young professionals, Mr. Philbert also volunteers his time with several organizations. He is Chair of the Board of The Harlem Eat Up! Foundation, Vice Chair of the Board of the CouncilHim Foundation, Advisor to Mastermind Connect and co-lead of the NY arm of Operation Rebuild Virgin Islands. Formerly, he was the co-chair of the Atlanta Caribbean Carnival, on the Board of Directors of Big Apple Basketball and the Atlanta Dogwood Festival.
A graduate of the University of New Haven, Mr. Philbert was raised on the island of St. John in the US Virgin Islands and currently resides in Harlem, NYC!